You work full time. You have a family to take care of. You are unable to attend a college campus. Committing to several years in a university classroom might not be in your plan due to geographic location or career responsibilities, but you still have opportunities!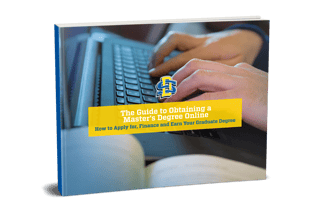 An online graduate degree can benefit you in many ways, including:
A career upgrade
Competitiveness in the job market
Improved wages
Stronger résumé
Better grasp of your field
A graduate degree from South Dakota State University is attainable off-campus and is just a few clicks away on your laptop or tablet.
Click the banner below to download our free e-book, "The Guide to Obtaining a Master's Degree Online," for details on how to earn your degree and some insight into how the process works at South Dakota State University (SDSU).