South Dakota State University (SDSU) is home to more than 900 students from 85 countries.
If you're coming to study from outside the United States, you are about to start a whole new life, maybe speak a different language and adopt new customs.
Check out this guide to find answers to some questions you may have upon your arrival.

Before you arrive on campus
Kirsten Linke, an international student adviser, encourages students to do a few things before leaving their home countries and arriving on campus:
Email your flight information to the Office of International Affairs, so you can be picked up from the airport.
Think about things you might want to bring from home that will make you less homesick (i.e., photos, favorite clothes, items that mean something special to you, etc.).
Spend time with your friends and family before you leave home.
Make sure to review and bring your documents and immunization records.
Fill out early arrival and housing applications as soon as possible.
At international orientation
To make this transition easier for you, SDSU's Office of International Affairs hosts an orientation for incoming international students. When you arrive on campus, there are few things you should take advantage of at this orientation:
Follow the schedule.
Have fun and strike up new friendships.
Get to know staff from the Office of International Affairs.
"Our goal at SDSU is to make sure when you go to class on Monday, you feel confident getting around campus and knowing what you are doing."
- Kirsten Linke, International Student Adviser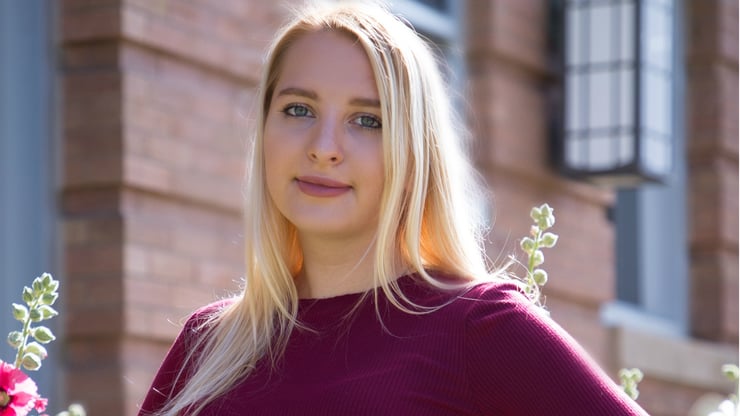 International student Sofiya Zybaylova
On- and off-campus housing
The SDSU campus and city of Brookings offer a variety of places to live—from campus residence halls to apartments and houses in the Brookings community. Sofiya Zybaylova, a senior journalism student from Russia, has some suggestions for incoming international students:
Making adjustments
It's all right to feel a bit lost at first, but there are a lot of things you can do once you step into your role as a new Jackrabbit to get comfortable. Sofiya has some advice on what you can do:
Don't be afraid to ask plenty of questions from your international and academic advisors.
Register for your classes as soon as you can. With questions, ask your academic advisor.
Get to know as many people as possible—some of them may turn out to be your best friends during your time at college.
"Make the best of your time here. Don't be afraid to learn a lot of new things every day and represent your home country with pride!"
- Sofiya Zybaylova, International Student
Adapting to SDSU and Brookings
If you like to be actively involved in the community, SDSU's campus and the Brookings community have many events and opportunities to offer. Here are some things you might want to be a part of: