How sweet it is to be a Jackrabbit. But how did we coin the name Jackrabbits?
There is great speculation of how a jackrabbit became the symbol of SDState. Some say we adopted the mascot as early as 1904, others say it was 1907. Either way, SDSU's Jackrabbit has become a distinguished symbol around the world. In fact, SDState holds the honor of being the only college in the nation with a jackrabbit as its mascot.
The story goes that the Jackrabbit name came from a story in the Minneapolis newspaper in 1905. South Dakota State's football team had just played the University of Minnesota and a newspaper reporter wrote that the SDSU players were as quick as jackrabbits. The nickname stuck and as the tale goes, they were Jackrabbits from then on.
The other theory believes the name was adopted from a poem in the 1907 yearbook. A group of juniors wanted to commemorate themselves, so they renamed the yearbook "The Jack-Rabbit" and wrote a poem about how it came to be. It is believed that athletic teams adopted the name following suit.
The poem: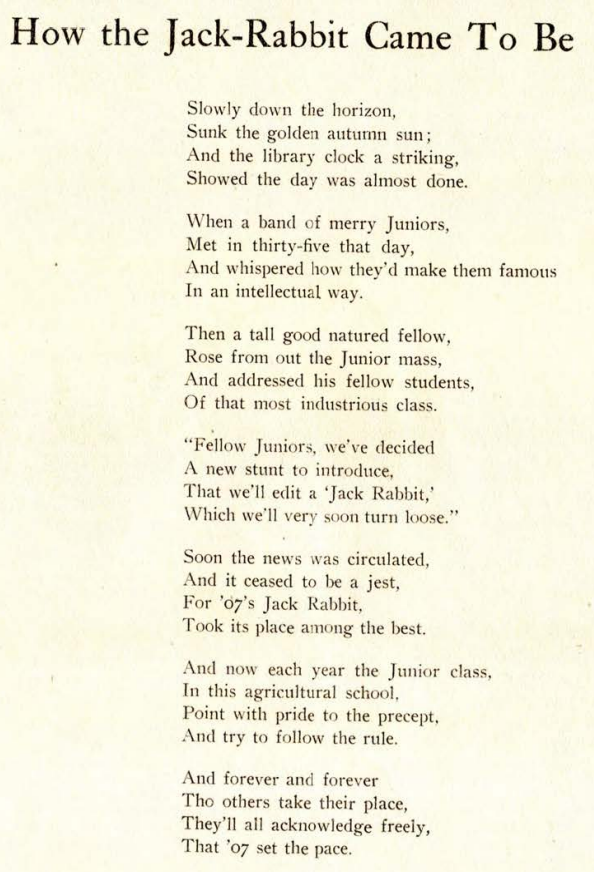 Others believe that the Jackrabbit was adopted as the official mascot when SDSU began.
As for our mascot himself, the Jackrabbit was unnamed for 105 years. In October 2010, a selection community was established to name the mascot. More than 800 people proposed names and the community narrowed it down to six frontrunners. Almost 4,000 people cast votes on an online poll and the name "Jack" was chosen after receiving 35% of the votes. The name was announced Nov. 12, 2010, and is now his birthday celebration.
Regardless of the introduction of the Jackrabbit, the mascot has become an honored symbol of South Dakota State University.