Sydney Smith is a junior journalism major from Redfield with minors in political science and communication studies. She has been involved with the student newspaper, The Collegian, and Journalism Club.
My college career has mostly been a blur since I started in 2019. I've learned so much along the way, but I wish I knew then what I do now before I started. I hope my advice on campus life can be of use to all incoming Jackrabbits.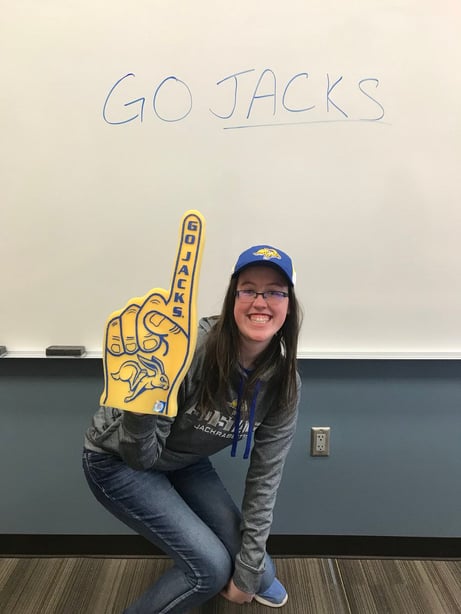 Dear Younger Me … leave your residence hall door open more.
The first night in the residence halls is a prime time to get to know the people on your floor. Excitement and confusion are at an all-time high throughout move-in weekend, so finding a friendly face to chat with is helpful. Some students roam the halls to meet others and an open door encourages just that. That's exactly how I made some of my very first college friends, but I wish I, and others, did it more so I could've met more people!
Dear Younger Me … take advantage of the residence hall study spaces.
A residence hall room is one of the better options when it comes to finding a reliable and comfortable environment for studying or doing homework. But if you're in need of a change in scenery, be sure to check out the different study spaces in the halls. Whether it's a dayroom in Young Hall or a room with a whiteboard in Ben Reifel Hall, there's plenty of spaces to choose.
On top of the space being perfect for studying, it is also a great place to meet people. I spent many nights studying in the Young Hall first floor dayroom as a first-year student and got to meet a bunch of other students. We made a lot of memories together, and it was truly a nice distraction from endless hours of studying.
Dear Younger Me … agree to more plans with friends.
College is four years of schoolwork and life planning, but it is also four years of making potential lifelong connections. As important as class is, it is also equally as valuable to spend time with friends. Spend a late night together bingeing a series on Netflix, go visit a friend's hall or explore all the activities Brookings has to offer. There were too many times I did homework every day of the week. While grades are important, learn from me and make more plans with friends.
Welcome to college life, Jackrabbits! Your time here will be filled with countless lessons, friends and memories that will last a lifetime. Keep these tips in mind while venturing through college and always remember to enjoy yourself. Go Big. Go Blue. Go Jacks!