Interested in a field with impossibly high job placement, impressive starting salaries and virtually endless growth opportunities? Getting into the dairy business might be just the ticket. It's a reliably strong market with ample career paths.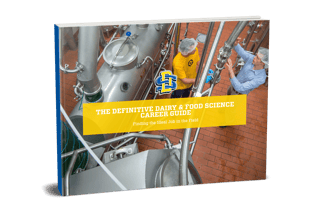 But what does dairy & food science entail exactly? And what can one do with a degree in this major? This guide will walk you through just that – the career opportunities ready and waiting for a dairy science grad once he or she enters the workforce.
The potential positions you might occupy post-graduation include:
Plant Manager
Product Development
Federal Inspector
Nutrition Consultant
Equipment Specialist
And much more
Click the download button below to obtain the guide!