At South Dakota State University, we have several majors related to science and health care. We strive to give students hands-on experience in the field they are pursuing through research, labs, clinicals and other extracurricular opportunities. These experiences continued through the COVID-19 pandemic, allowing students to gain knowledge and expertise in areas that weren't part of their typical curriculum. Here are just a few examples of our students' work completed over the past year.
College of Natural Sciences
Jordan Neises is a graduate student in the College of Natural Sciences. He is researching the seroprevalence of COVID-19 within regional health care workers. This means he is looking for the number of workers who have tested positive, based on blood specimens. The proportion is then determined per 100,000.
Keri Pappas is a senior human biology and microbiology student and will pursue a master's degree in public health after her May graduation. Before the pandemic, she volunteered at a nursing home in Brookings. She also created the Adopt-a-Grandparent Club, where students would visit residents at Brookings nursing homes ever few weeks. After COVID-19 shut down the club's activities and volunteers were no longer allowed to come in, Pappas pursued a job at the nursing home she was volunteering to ensure she could continue to serve the residents she had become close with in a safe manner.
Community and Public Health
Students enrolled in the community and public health program have put their skills to use serving the South Dakota Department of Health with COVID-19 contact tracing. These students as well as other volunteers helped take information from those who became infected with COVID-19 and with whom they had close contact. In turn, they notify those who have been exposed and give them guidance as to what's next. Contact tracing can help slow the spread of the virus and prevent others from contracting it.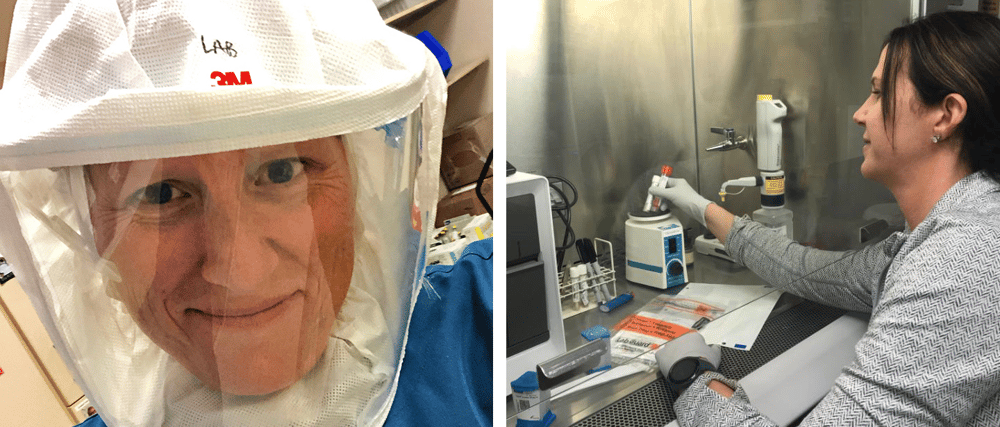 Medical Laboratory Science
In March 2020, when the pandemic first hit, two students in the Medical Laboratory Science Upward Mobility Program began sample processing from suspected COVID-19 patients. Lab techs Michelle Holzbauer (Platte Health Center) and Bobbi Gilkerson (Avera St. Mary's in Pierre) tested samples or sent them to a separate facility to see if the patient has tested positive for COVID-19.
The pandemic has caused a greater strain on several areas medical care, but especially hospital laboratories. Before the COVID-19 pandemic, the U.S. Bureau of Labor Statistics predicted more than 70,000 job openings would be created in the medical laboratory science field by the year 2022.
Respiratory Care
Respiratory care students typically begin clinicals in their second semester of coursework at Sanford Health and Avera McKennan in Sioux Falls and Monument Health in Rapid City. However, this past year of clinicals has been anything but typical for these students.
Rising COVID-19 patient numbers and a workforce shortage gave students the opportunity to gain experience working in a pandemic. The hospitals approached students enrolled in the program to become interns.
Because students train on the hospitals' equipment and in their laboratories for their clinicals, they already are familiar with how rotations operate. If they wished, they could obtain temporary respiratory therapist licenses from the state to work within their respective hospital.
As a temporary respiratory therapist, these students helped registered respiratory therapists. They delivered nebulizer medications and inhalers, observed oxygen titration levels, especially before and after surgeries, and educated patients on chronic obstructive pulmonary disease. Many students worked shifts over the holiday break, some working full time.
Carolina Diaz is a respiratory care student working toward her associate degree. She said although she got great experience, working with COVID-19 patients took its toll. She required full personal protective equipment, making the tasks harder to complete.
Students Helping Students
On campus, COVID-19 vaccination clinics were organized to vaccinate students. Two clinics were held for students living on campus. Through these COVID-19 vaccination clinics on campus, hundreds of vaccines were distributed to SDSU students. These vaccinations are the Janssen vaccine, allowing students to be vaccinated faster through one dose, providing the most protection to recipients two weeks after being administered.
Not only are our students working to protect our campus community by receiving a COVID-19 vaccine, but they are helping facilitate the clinics and administer the doses. Students in the College of Nursing and the College of Pharmacy and Allied Health Professions have been administering doses at both the SDSU COVID-19 Vaccination Clinics and the Brookings community vaccination centers also known as PODs.