Do you want to pursue a career focused on helping others? Is there a cause that you find near and dear … like the environment, animal welfare, human services or the arts? Would working for a nonprofit organization interest you? If so, a bachelor's degree in leadership and management of nonprofit organizations from South Dakota State University might be the right fit for you.
Through the leadership and management of nonprofit organizations (LMNO) program at SDState, students take a broad range of courses to give them a solid foundation for their future careers.
What classes do I take?
A mix of leadership, business, history and marketing courses create the LMNO major. Courses focus on nonprofits and understanding the history of philanthropy. Ethics, history and the organizational structure of nonprofits and social service agencies are also studied. Students learn business basics so they know how to handle funds as accounting, financial management and fundraising are essential skills in this industry. Marketing, advertising, public relations and social media skills are also in the curriculum as creating a good campaign can help fundraising immensely.
What are my career options?
Because this major provides a wide set of skills, the sky is the limit when it comes to career options. More specifically, this program prepares students to become leaders in the nonprofit world. Marketing, public relations, fundraising, volunteer coordinators and program directors are all positions a graduate could land.
With approximately 1.6 million nonprofits in the United States alone, there are ample opportunities for those with an LMNO degree. Students can develop professional connections through a required three-credit internship or several internships. Students get hands-on experience with a nonprofit organization that is close to their career interests.
Our students are making a difference.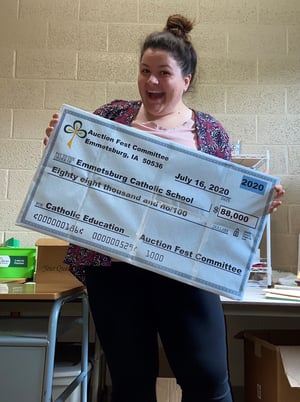 Through internships, students serve others and discover how rewarding that can be. Senior Caitlin Thilges completed her internship for Emmetsburg Catholic School and Holy Family Parish in Emmetsburg, Iowa, as a development and marketing intern. She attended a nearby private school and has a background in parochial school systems.
"I interviewed for the position in December 2019 and had secured the position for the summer of 2020, before the COVID-19 pandemic had even surfaced. I was not anticipating the challenges that I ended up having to work through that summer," Thilges said. "Probably the largest hurdle I faced was that when I showed up to work, the school had not conducted its annual fundraiser, which usually raised enough money to cover one-fifth of the annual budget."
The fundraiser was typically held in March or April each year, but had been postponed due to the pandemic. Thilges said it should continue with the fundraiser, but use an online auction to raise the needed funds.
"Within a month, we were able to gather all auction item donations, take photos of all items, upload photos onto Greater Giving—an online fundraising platform that none of us had ever used, register all auction participants, inform news outlets, curate address lists and send thousands of letters detailing the change in events," Thilges said.
They also worked to create a livestream and raffle games on Facebook the day of the live auction, inviting guests to host events from their own homes. Thilges and the committee raised $95,000. After keeping a portion of the profits for future fundraising events, the school was presented with a check for $88,000.
"My internship experience taught me the true importance of communication. Without my ability to form relationships, I would not have been nearly as successful. Also, it gave me a glimpse into the leadership skills that are necessary to work in nonprofit organizations," Thilges said. "You wear many different hats and need a wide variety of skills. It is important to have confidence in the work that you do, and that is where work satisfaction comes from—from loving the work you are doing and pouring into your passion."