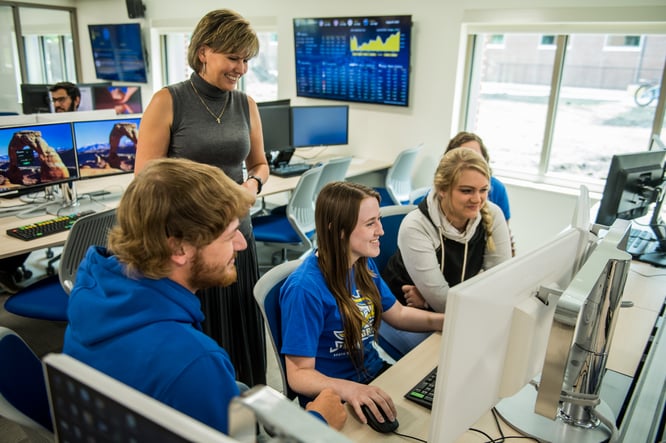 The Ness School of Management and Economics at SDState has five pathways to a bachelor's degree in the fields of business and economics.
With our outstanding faculty and a newly renovated facility in Harding Hall, you won't want to overlook what the school has to offer.
These five bachelor's degrees can prepare you for a career in business, finance or related fields:
Business Economics: This degree combines the analytical aspect of an economics degree and the practicality of business management. Students can focus on their interests through electives by taking classes in accounting, law, entrepreneurship, marketing and others. If a career in banking, marketing or sales piques your interest, this SDState degree may be for you.
Entrepreneurial Studies: This program allows students to think creatively, to innovate and add value to something new or existing. Students focus on how to start and grow businesses, how to work as an independent person and how to market products. If you are interested in starting or managing a business, marketing, or creating a new product or idea, an entrepreneurial studies degree would be a great start.
Agricultural and Resource Economics: With a focus on agriculture and research, this degree directs you on economic and quantitative theories. Students can look forward to reviewing International trade, government policy and research on the environment. If agriculture finance, commodity trading or policy interests you, a degree in agricultural and resource economics could be for you.
Agricultural Business: Not only do you gain business management and economics skills with this degree, but you also learn about the technical production of agriculture. This knowledge helps you better serve potential customers in the agronomy, agriculture marketing, sales and accounting fields.
Economics: If you are a critical thinker and enjoy a broad range of subjects, an economics degree could be for you. Students learn about accounting, finance, business and more with this program. Students are given the freedom to choose electives within the Ness School of Management and Economics to focus on what subject they choose. This degree is often a precursor to pursuing graduate studies in business and law. If you enjoy examining and predicting trends in policy, banking, business or other financial analysis, pursue a bachelor's degree in economics.
Want to know where you could be having classes? Take a tour of Harding Hall, home to the Ness School of Management and Economics.